Coughton Court Fete "Classics at the Court"
Saturday 22nd July 12 – 4pm 2023
Show cars to arrive between 9 and 10am.
Coughton Court, Near Alcester B49 5JA
NOTE: we are now up to 60 cars and applications are now closed.
Check the weather forecast before you set off.

See entry location images below.
Show Car Information
The space is limited to around 50 cars, is invitation only and you should aim to arrive between 9 and 10am and definitely before 10:45am because that is when the general public will start to arrive. I am not looking for new cars and so the older the better. The car should be in presentable, show condition and ideally display an information sheet to increase the interest. If the car is rare or modified (hot rods welcome) then that will provide a talking point for visitors.
This event is a show of an eclectic mix of vehicles which I have personally chosen using my years of car show experience. It is a show for the public to enjoy rather than a car meet. However I'm sure that we will all enjoy seeing each others cars and talking about them. Enjoy the day.
Please see images below showing where to enter Coughton Court grounds and the display area. Enter through the Lodge Gate and follow the road through the trees. After that turn left across the grass toward the avenue of trees and pass through into the display area where someone will help you to park.
Note the Fete runs from 12 to 4pm so please try not to leave before 4pm.
HELP Required
I would be most grateful if anyone was willing to help park the display cars between 09:00 and 10:45am and tick off the entries. Thankyou.
Any queries then contact me on 07905 489 477 or email me on ccfete@outlook.com.
Unfortunately, I will have to leave around mid-day to attend another event.
The event is a Fete and is very much a family event with the grounds and gardens open to all.
You may message me (
jcmesq@outlook.com
or 07905 489 477)
Please see map below for where to enter and exit.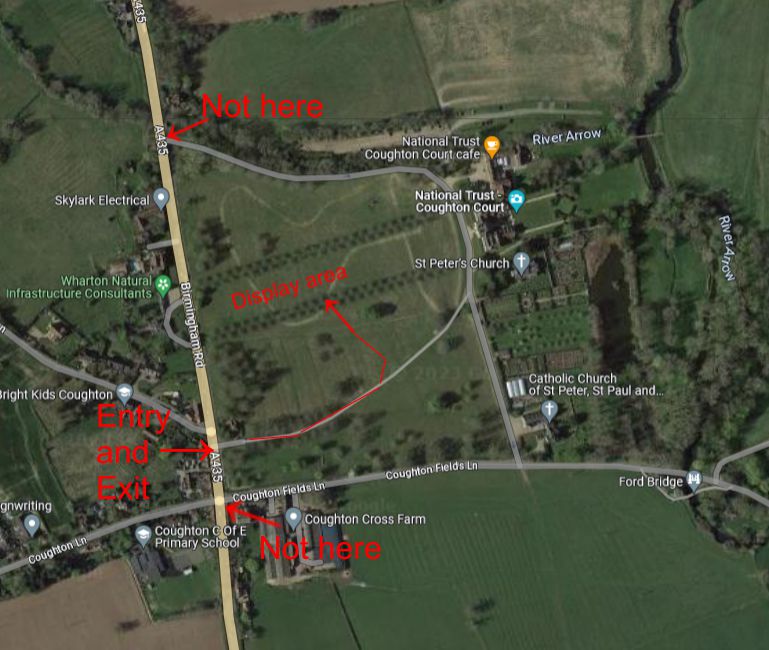 Update from Coughton Court
Join us for our 11th annual village fete on Saturday 22 July from 12noon – 4pm held in the front field at Coughton Court.
Entrance to the fete and gardens is free, dogs on leads welcome to the fete, assistance dogs only in the gardens. All money raised at the fete goes towards Coughton C of E Primary School, the churches and other community projects.
As well as fun and games for the family there will be a host of stalls organised and run by the residents of Coughton village, including tombolas, coconut shy, books and jigsaws and raffles.
A lovely selection of classic cars will be on show again.
We're delighted this year to welcome Kirsty and Phil & artisan Bazaar who are organising our external crafts and food stalls for us.
There will be traditional stalls and activities aplenty including sports day games, a classic car display, tombola, coconut shy and entertainment by local choirs.
Would a village summer fete be complete without some delicious food on offer? Definitely not!
Enjoy a mouth-watering BBQ, a picnic area if visitors want to bring their own and the café will be open for visitors to enjoy a hot lunch, a cream tea or a traditional ice cream to enjoy in the sun.
The grounds look particularly beautiful at this time of year with sweetly scented roses in a huge variety of colours filling our award-winning gardens.
The shop is stocked for summer with gifts and treats and the bookshop shelves are packed to the brim!